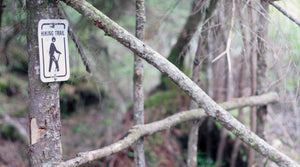 Happy trails
Through the publication of The Outsider's Guide to Prince Rupert (2nd edition), Muskeg Press will be supporting the Kaien Trails Society, a voluntary organization which has done so much work to build, develop and maintain the trail network throughout Prince Rupert. Ten per cent of all sales made on Nov. 17, the date of the book launch, will be going to the organization.
And we're very happy to do so! After all, the Outsider's Guide and the Kaien Trails Society are very closely related: the book describes and celebrates the wonderful walking trails around Prince Rupert, and the Society is actually going out there and building these trails. In the Outsider's Guide, author Matt Simmons describes one of the newly forged paths, First Creek (page 44); although the path had been somewhat accessible for a while, the Kaien Trails Society has recently bushwacked it and made it even more walkable. It's trails like First Creek that make Prince Rupert a great place for locals to get some exercise, and for tourists and travellers to help the local economy.  
How could a trail network possibly be good for the economy? Who better to explain  than Matt Simmons himself? Back in September 2011, Matt wrote an article for Muskeg News, a small magazine that Muskeg Press published for about a year. In his article, Matt describes how trails can lure tourists and travellers alike, which make them good for the local economy. In true Simmonsian fashion, a seemingly simple hike turns into a beautiful meditation on the meaning of a good walk through the woods.
In honour of the good work of the Kaien Trails Society, and to give you a taste of what you can expect with the launch of the new book tomorrow, we've reprinted that original article from Matt below. Enjoy!
OFF THE BEATEN PATH

Muskeg News, Vol. 4 No. 6, September 2011
By Matt Simmons
A lonely pair of footprints tramps off into the muddy distance. I hike on, following them, scraping past scrubby bushes that threaten to close in on the path until there's nothing left but an impenetrable maze of branches. Brightly coloured flagging tape marks the way…faintly. Eventually, the landscape opens up and spreads out to a very-distant horizon. The resulting view is simply staggering.
Take a look: there's the biggest ocean in the world, punctuated by islands and boats, a massive marine playground. Here are the snowy mountains, circled by stormy clouds full of wind that scours their peaks of anything but rock and snow and ice. And there are the forested hills, lush and dripping with life. Serpentine rivers and creeks slice the valleys – each waterway flows inexorably to the west, to the coast, to the sea. There really is nothing like it…this is a truly spectacular place.
I wrench my eyes from the view back to the two tracks dug in the mud by a single pair of Vibram-soled hikers – did a tourist come up here? Unlikely. It's a safe bet that these tracks were made by a local's boots. Tourists who come to Prince Rupert aren't the hiking type. Or are they?
I only met one tourist while out hiking in Rupert. He wasn't your typical tourist, though. He looked like an athlete, a contender for an adventure race like "Raid the North." The guy was sporting the latest Arc'teryx jacket, a kick-ass backpack, gaiters, and a cool gaze that said he was more than comfortable out in the woods and in the elements. He was friendly and he told me he absolutely loved his hike here. He'd done Mr. Oldfield and came back to do Kiwanis Trail on his second day in town. It started snowing as we exchanged a few words. It turned out he owned an outdoors guiding company in Ontario and was taking time off to explore BC. He asked me if I knew anywhere else around to go hiking. I grinned, put down the GPS I was using to make trail maps, and proceeded to talk his ear off.
To say the weather is what holds people back from outdoors-based tourism in Prince Rupert is a fallacy. Sure, it rains often here…and in high quantities. But people come through Rupert on a regular basis, fully equipped for an outdoors adventure. Whether they're heading to Haida Gwaii for a paddle in the park or to Alaska on a glacial trek, visitors to the region aren't afraid of a little weather. But are these tourists, or travellers?
Is there a difference? Definitely.
Travellers dig into a town or a landscape, sniffing out the insider's take on what to do, where to go, and why it's worthwhile. They read books, check out websites, and ask questions. They're passing through, sure, but they're looking for an experience on the way. If it's a good one, well, hey, maybe they'll stay for a few extra days.
Tourists browse. They look at the surface of a town or a landscape and they take it all at face value. They look at brochures, maps, shuffle through stores and eagerly line up for restaurants. They come…and then they go again.
When it comes to trails, tourists want short hikes that are not too far away, not super strenuous, and preferably have a point to them – a view, a picnic area, a natural feature, etc. Travellers are more adventurous. They'll take on an epic all-day trek to get a closer, more personal experience of what the region is all about. The muddier, the better.
Rupert has plenty of paths for both. There are lots of short, easy hikes and even more epic treks that you can do in a day. So why is it then that trails in Prince Rupert seem a secondary consideration when talking tourism? There are loads of reasons, but the main objection seems to be maintenance. Rupert's climate may not keep keeners indoors, but it does wreak havoc on trails. Boardwalks and bridges are battered by the relentless rain, and all that vibrant green foliage grows in a quicker than you can say photosynthesis. Still, Butze Rapids Trail seems to be holding up just fine. So does the path up Ptarmigan Mountain. Same goes for the McDonald Trail. And the more use those trails get, the less the bush will grow in. A little maintenance and a lot of use is what keeps trails alive.
What happens when they don't get used? Take the Thousand Steps. It's a trail everyone in town seems to know about, whether from childhood memory or just something they've heard about in passing. The route is a Second World War relic, a tramway to the lookout on Mt. Hays. It's an extraordinary feat of engineering coupled with the brute force of hard labour – soldiers make good trail builders. Over the years, a combination of disuse and weather has left the path up the mountain a ghost of what it once was. But it could be so good. The Thousand Steps has a quintessential view of the marine and terrestrial landscape that makes Rupert special, every step of the way. It's a physically challenging, fun hike right in town, with an option for a circular route. And every footstep is a link to part of the town's long and fascinating history. Sadly, it's now all but unusable. Could it be restored? I hope so.
Tourists and travellers alike have plenty of trails to hike in and around Prince Rupert. They just have to find them and be ready for a little rain. And what better way to experience this town than out in the elements, on foot and drinking in the view? If, when folks travel, they make memories, visitors to Rupert should be sent out there to make memories of the rainforest, the spectacular coastal scenery, and the jaw-dropping Coastal Mountains. And if they go out there and use them, the trails will last a little bit longer.
Before we parted ways, the Ontario guide asked me where he should grab a burger and beer and where he could get a good cup of coffee in the morning. Travellers spend money. They eat, drink, sleep, and maybe even shop for local crafts, knick-knacks, and of course, outdoors gear. It's no secret that the tourism economy is an important one in BC. In Rupert, it's even more important. There seems to be a largely untapped resource in these trekking travellers.
And the best part of it? If Rupertites fix up trails to bring travellers to the town (and with them some much-needed dollars to local businesses) then locals will have good trails to use, too. Everyone wins.
Build the trails and they will come. They'll come, they'll stay, and then they'll go home and tell their friends.
---